GUNUNG NUANG ULU LANGAT SELANGOR
11~12 November 2017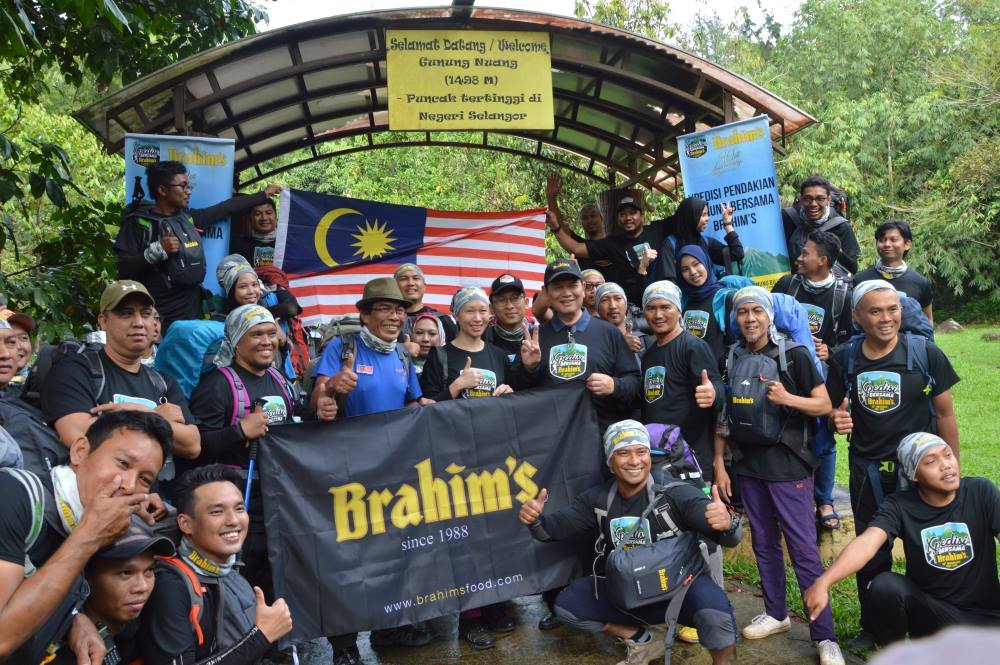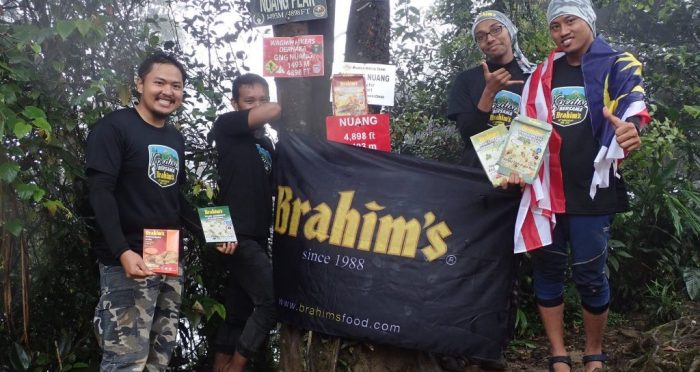 Participants and media
Participants and members of the media attending the Launch of Mountain Climbing Expeditions with Brahim's.
Drone untuk pelancaran xpedisi
Tak dapat naik gunung, tengok saja kecantikan di kawasan gunung melalalui TV yang diambil menggunakan drone.
Brahim's Adventure Pack
All the participants were given each an adventure meal pack. The adventure meal pack comes in 3 sets – one meal set, chicken set, and beef set". This adventure pack can only be purchased at Brahim's Shoppe at Brahim's Factory in Bandar Baru Bangi.
Among the products contained in the adventure packs such as Nasi Goreng Kampung, Chicken Briyani Rice, Chicken Curry with Potatoes and Meat Curry can be found in Brahim's commercial pack which are availablein all hypermarkets in Malaysia such as Tesco, Giant, Aeon Big, Cold Storage, Econsave, and others.

Hiking equipment for participants
Dewina lancar Xpedisi Pendakian Gunung Bersama Brahim's
Xpedisi Pendakian Gunung Bersama Brahim's bermula hari dengan pelancaran pertamanya di Gunung Nuang, Ulu Langat Selangor yang dilancarkan oleh Dato' Seri Ibrahim Hj Ahmad Badawi dimana beliau melepaskan 50 orang pendaki gunung terdiri daripada kakitangan Brahim's Dewina dan individu dari kumpulan dan kelab pendaki.
Hey..Let's do some stretching exercise before climbing

Group photo with participants before the expedition

Handing over Brahim's banner

Ribbon cutting by Dato' Seri Ibrahim

Getting ready to flag off the participants

Flagging off participants

Wishing all a safe expedition
Gunung Nuang Expedition Begins 

Never Stop Exploring – Gunung Nuang Hike.  This mountain, situated in the Hulu Langat district of Selangor is often described as Selangor's tallest peak.  Gunung Nuang is 1493 meters high (4898 feet) making it the 86th highest peak in Malaysia. It is also the most popular hiking spot
This first part of the trail is 6.2km. The trail ends at Camp Lolo where participants stopped for a group photo and rest before heading to the peak.
XPEDISI MENDAKI GUNUNG NUANG BERMULA
Tinggi: 1493 meter / 4898 kaki 
Perjalanan menuju ke kem Lolo sebelum naik ke puncak.  
River crossing before reaching Camp Lolo.  Some of the challenges the participants painstakingly endured.
Antara cabaran yang dilalui. Menyeberang sungai sebelum sampai kem Lolo.
Arrived at Camp Lolo where participants overnight. They had a short rest and tackled the next stage of the climb. There are no facilities at this campsite other than a few sandy plots where tents can be pitched.  Overnight at Camp Lolo and having a feast with Brahim's Adventure pack offerings.
TIBA DI KEM LOLO…
Mereka bermalam di kem ini. Kerja memasang khemah dilakukan. Berehat sebentar dan mereka terus mendaki ke puncak dan turun pada hari yang sama juga.
BERMALAM DI KEM LOLO DAN MENJAMU SELERA DENGAN PEK ADVENTURE BRAHIM'S
Gunung Nuang Summit
Finally, they made it to Gunung Nuang Summit.  Brahim's conquers the mountain – Gunung Nuang 11.11.17
Akhirnya sampai juga ke puncak Gunung Nuang setelah menharungi cabaran cuaca dan trail yang licin.
Expedition ends 
Sharing Brahim's products with other hikers

Exciting expedition

Garbage collection

More garbage to collect

Bringing down the garbage

Garbage collected with friends

Returning home

Still in high spirit

Media interview on site

Brahim's team