Brahim's Foodie
Brahim's range of authentic Asian sauces is known for helping our consumers deliver consistent cooking results every time. But one additional aspect of Brahim's products is the flexibility it offers to create a range of different dishes using the same sauce.
Best food ingredients
Using only the best ingredients for all the sauces and pastes, one can truly enjoy the nutritious and delicious meals prepared using Brahim's. All Brahim's products do not use monosodium glutamate (MSG), preservatives and food coloring.  And all our products are halal certified.

The process
Our maxim at Brahim's is modern production with traditional method to develop Brahim's unique flavours!

Brahim's Ready-To-Cook Sauces and Paste
YOUR TRUSTED COOKING PARTNER












Signature Dish
Chicken Rendang
Beef Rendang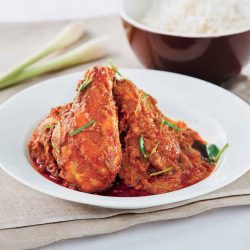 Operation Hours
Brahim's Shoppe 
Dewina Food Industries Sdn Bhd
Lot 11, Jalan P/9B, Kawasan Industri
43650 Bandar Baru Bangi, Selangor, Malaysia
(+603) 8926 2828
Every Heart, Every Home, Every Where