Chicken And Vegetable Rendang Pizza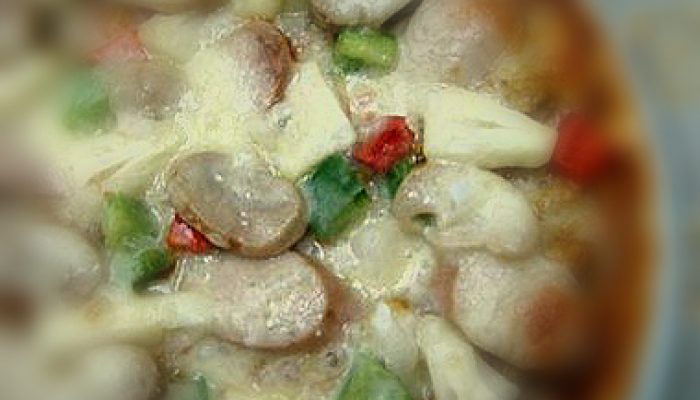 Serves 4
Prep time 25 minutes / Cooking time 30 minutes
Ingredients
Conventional pizza dough:
2 cups flour
1/2 teaspoon salt
1/2 tablespoon sugar
1 packet ( 8 g ) dry active yeast
2 tablespoon olive oil
3/4 cup water or milk for a softer dough
For toppings:
30 g Brahim's Indonesian Rendang Sauce as base
100 g boneless chicken, strips and,
70 g Brahim's Indonesian Rendang Sauce, Mixed well
50 g chicken frankfurter, sliced
15 g red capsicum, cubed
15 g green capsicum, cubed
30g canned pineapple
30 g button mushroom, sliced
10 g holland onion, chopped
100 g mozzarella cheese

* 1 packet of Brahim's Indonesian Rendang Sauce can make 3 pizzas topping

To prepare pizza dough:
Mix flour, yeast, salt, sugar and olive oil in a mixing bowl. Add water. Knead mixture to form a soft and elastic dough. Place dough on a greased tray, and place the tray in a warm area for 40 minutes. The dough will expand to double in size. Grease pizza mold. Knead dough to a round shape with 2 cm thickness. Place dough into the greased mold. Leave for 10 minutes before adding topping.

To prepare pizza:
Spread Brahim's Indonesian Rendang Sauce on pizza dough. Sprinkle toppings all over. Cover topping with mozzarella cheese. Bake for 20 to 30 minutes at 200°C or until dough is crisp and cheese turns golden brown.