Satay Celup ~ Steamboat Satay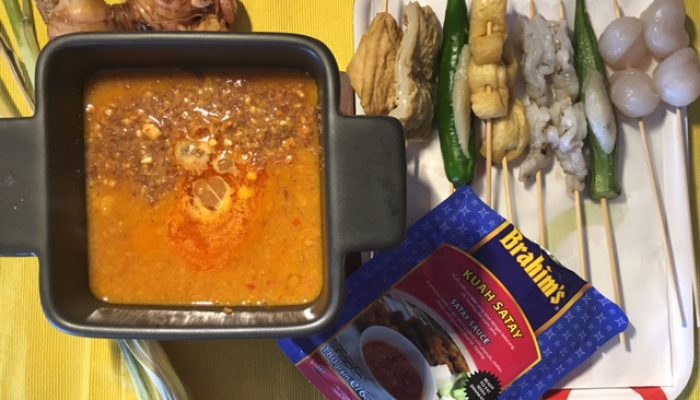 Serves 4
Prep time 20 minutes / Cooking time 30 minutes
Ingredients
(A)    
2   onions
1 whole garlic ( peeled )
1 piece galangal
100 gm dried shrimps
10 – 15 pcs dried chilies ( seeded and soaked )
1 small piece shrimp paste ( belacan )
1 packet Brahim's Kuah Satay
½ cup santan (coconut milk)
(B)
2 stalk lemon grass ( serai ) ( cut into pieces )
5 – 10 gm brown sugar
2 packets Brahim's Kuah Satay
I liter chicken stock
Salt to taste
(C)
An array of raw and semi-cooked seafood and meat of your choice
Garnish
Grounded peanuts for toppings ( optional )
Method:
Heat up some oil and sauté the lemongrass and shallots.
Add in red chilies, red bell pepper, and basil leaves, till fragrant.
Add in the seafood until slightly cooked.
Add Brahim's Kuah Satay.
Mix well and let it simmer for a few minutes.
Lastly, add in the santan and mix well. Remove from heat. 
Dish up and serve with rice.
Instructions
Blend together (A) ingredients in a blender to a fine paste.
Heat some oil in a wok and sauté the cut lemongrass till fragrant.
Add in the blended spice paste ingredients ( A), a pinch of salt and brown sugar and sauté under low heat till fragrant.
Add the Brahim's Kuah Satay, and sauté for 5- mins.
Add in the chicken stock and simmer over low heat for about 20 – 30 mins till slightly thickens (thickness as desired).
Pour the sauce in a pot over a low heat ( garnish with grounded peanuts –  optional ) and is ready for serving and dipping the array of raw and semi-cooked seafood /meat (C) into the simmering sauce.