Brahim's Cooking Sauces
Brahim's brings you the best Malaysia has to offer with its range of ready-to-use Cooking Sauces featuring favourite dishes that capture the exotic flavours of Malaysia. Now you can create delicious, wholesome Malaysian dishes in just minutes. Simply pour and simmer with your favourite meat, seafood and vegetables, garnish and serve.
Brahim's Cooking Sauces contains no MSG, artificial coloring or artificial preservatives for a healthier meal option. A special blend of high quality natural herbs, spices and other ingredients gives the most authentic and tasty meal you've ever tasted. With its complete easy cooking steps and precise portioning, Brahim's will help you deliver consistent cooking results every time!
Kuah Asam Pedas
Kuah Ayam Madu
Kuah Kari Daging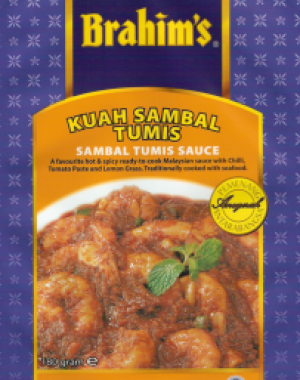 Kuah Sambal Tumis
Kuah Kurma
Kuah Masak Lemak
Kuah Masak Merah
Kuah Kari Ayam
Kuah Pajeri
Kuah Satay
Kuah Rendang
Kuah Asam Pedas